20th century
When the North Carolina Museum of Art opened its doors in 1956, there was little in the way of 20th century art. The collection favored Old Master paintings over modern ones, reflecting the prevailing cultural attitudes of the Museum's founders. But the Museum's first director, W. R. Valentiner, disagreed with this singular emphasis. He argued strongly that a museum should pay attention to the art of our own time. Valentiner donated Richard Diebenkorn's magnificent
Berkeley No. 8
(1954) and secured the gift of Franz Kline's
Orange Outline
(1955), a classic work of abstract expressionism. However Valentiner's greatest legacy was his bequest of an extraordinary group of paintings, sculptures, and works on paper by many of the foremost German modern artists of the early 20th century. Among the works are the joyous
Panama Dancers
(1910–11) by Ernst Ludwig Kirchner and Karl Schmidt-Rottluff's vibrant expressionist
Portrait of Emy
(1919), both signature works of the German avant-garde. Other outstanding works in the 20th century collection include Frank Stella's monumental geometric painting
Raqqa II
(1970), Ellsworth Kelly's monochromatic panel painting
Blue Panel
(1980), Louise Bourgeois's
Spiral Woman
(1984), Anselm Kiefer's Untitled triptych (1980–86), and Gerhard Richter's abstract painting
Station
(577-2) (1985).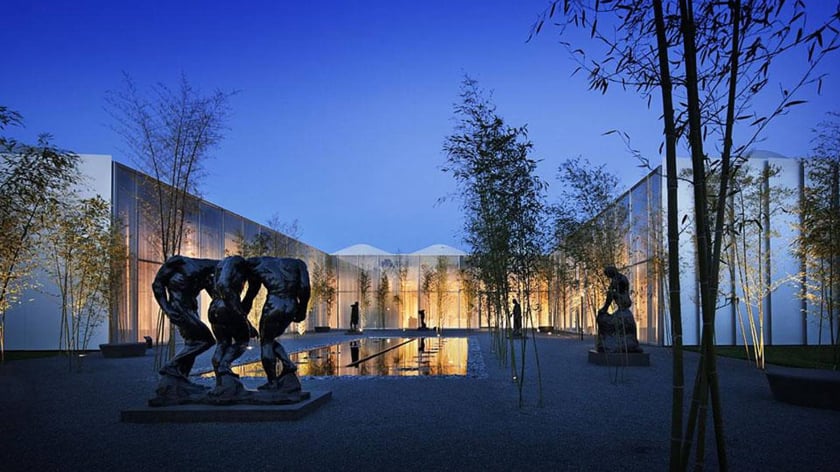 The first generation of American modernists is well represented. Marsden Hartley's Indian Fantasy (1914), painted in Berlin just before the outbreak of the First World War, conveys the artist's intense spiritual longing for a world in balance. Lyonel Feininger's The Green Bridge II (1916), also painted in Germany, employs a quirky cubist style to animate the memory of a working-class neighborhood.
The isolation and abandonment of the individual—a theme central to modern art—is explored in such diverse works as Andrew Wyeth's Winter 1946 (1946) and Alberto Giacometti's attenuated bronze Woman of Venice IX (1956).
The modern collection has benefitted from the generosity of donors. The Jim and Mary Patton Collection, a major gift to the Museum, expanded the NCMA's holdings of midcentury works by European and American artists, including key works by Hans Hoffman, David Park, Sean Scully, Ellsworth Kelly, Helen Frankenthaler, Adolph Gottlieb, Wayne Thiebaud, and many others.
The West Building houses the Museum's modern collections, occupying several rooms within an expansive suite of galleries devoted to the art of the 20th and 21st centuries.